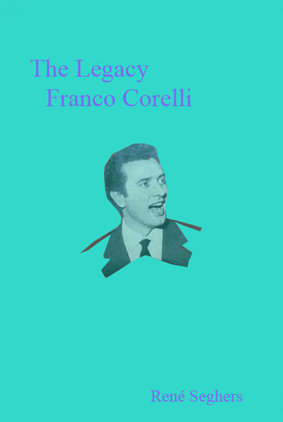 The legacy
Prince of Tenors has always been intended as the first part of a Franco Corelli tetralogy, and this page serves to look into the future, more precisely to Franco Corelli | The Legacy.
The heart of the Franco Corelli | The Legacy are detailed reviews of Corelli's recordings (both the ones that are discussed in Prince of Tenors within the context of the biography, and those that the author judged to fit better in The Legacy, like Corelli's third Carmen recording with Moffo, whom he has interviewed with respect to that recording, shortly before she died. Time also brought some surprises to The Legacy, in addition to the many that Prince of Tenors already brought. Next there will be a detailed (but not excessively) chapter on Corelli's vocal technique, with concrete examples, that will make it easy to understand the melocchi school principles, and the way in which Franco adjusted that technique. Also, there will be a brief geneanoly of the so called baritenor school, which can already be sampled in or still 'under construction' and unpromoted, but partially already readable pages Born to the Breed. That section not only follows the way back to the creators of Franco's roles, but it also indicates what other roles might have been suitable to the Corelli voice, had these operas still been in vogue during the 1950's and 60's. Fortunately, a good deal more of these obscure titles has been unearthed through live and even studio recordings today. And yes, this is still closely related to Franco's work, which we can now recognize as pioneering in a number of ways, even when it seems rather obscure today, such as his Händel performances. At the time, though, these marked the very beginning of the Händel renaissance. Likewise his La Vestale and Gli Ugonotti recording paved the way fror the Grand Opera revival that occured in the 1970's, 80's and 90s.
Influences.
The Legacy will offer will further offer short biographies for some colleagues that were important to Corelli's vocal development. In addition, their various vocal styles will be compared by means of recorded examples.
Complete Performance Chronology
Last but not least, The Legacy will feature a complete performance chronology, a complete discography/ filmography, a bibliography and an index of private and public interviews that are available with Corelli. In operating toward this goal, Frank Hamilton, when he was still among us, and I decided to merge our chronologies. The idea of course being that with him incorporating every bit of new information from Prince of Tenors, and generously sending me corrections in reverse, our chronologies are now largely the same. Together with Gilberto Starone, we did the pioneering work in this field, later authors just copied us and put their own name on top. I admired Frank too much to just publish a stand alone rival English language chronology in a new jacket, and thought it best to first offer him to merge. Of course, it helped a great deal that Frank was helping me to build a comprehensive Darclée chronology for that book and website (see www.darclee.com), modeled on his online chronologies.
I am slowly working towards a way of presenting the material in print. Meanwhile, Frank's online presentation will remain available, also from this website. He asked me to secure its availability after he would have left this world, and ever sicne I have made sure that the contents of all of his chronologies remained available. However, with respect to the upcoming publication in The Legacy, Frank and I kept all novelties on hold for that publication, as well as a number of the finds from Prince of Tenors. What you see online is the uncorrected 2009/10 version of his chronology until that point.
While we are working toward that publication, Frank's online chronology should be seen as complimentary to the added info in Prince of Tenors, and vice versa. These two chronologies can no longer be regarded as autonomous stand alone publications proper. The temporary absence of specific new information doesn't mean we aren't aware of that information, or that we rejected it. We are keeping that in a seperate, joint file, which is the one that will eventually be published in Franco Corelli | The Legacy.
A technical book?
No private life, no revealing, funny, or otherwise intriguing anecdotes? None of the things that are so treasured in Prince of Tenors? Not the 1000 lovers that our ever upcoming AMerican colleague biographer promises us since soms years now? Hardly. Hence, The Legacy will be a book for a more restricted audience, although the chronology will add significantly to the general interest. And we do hope that it will be possible for us, to include a CD/ DVD with the true rarities that are currently in our posession, in that book. A CD with 78 minutes of... unpublished Corelli!
Timeline
We estimate that it may take anything between two to seven years to complete it, and the third and fourth part of the planned Corelli Tetralogy may actually see the light of day first, as they are far easier to produce (a photobook, and a book of which the subject must remain a mystery until published).
CD/ DVD releases
Do we all have to wait for years in order to hear and see all those rarities that Seghers and those working with him have in audio and video recordings? Well, hopefully not. Seghers: "Since we failed to find either a suitable partner for CD releases, and have not managed to secure the minimal subscription of 200 items, not were we able to find sponsors for CD/DVD releases of unpublished material, we have now turned to the alternative of offering downloads. Find the first one, 'An Ardent Lesson' here. Actually, we shouldn't even speak so much about MP3 downloads, as we are offering rather elaborate and well illustrated pdf format essays with free audio supplements."
© 2013 FrancoCorelli.nl/ All rights reserved