Prince of Tenors
European Book Presentation
Photo report
The European Book Presentation of Franco Corelli | Prince of Tenors took place on March 19, 2008, in the aula-theater of the Barlaeus Gymnasium, Amsterdam.
THE PROGRAM | VIDEO CONFERENCE AMSTERDAM–ANCONA
Marco Corelli (Host)
Simultaneously with the European Book Presentation in Amsterdam, there was a gathering in Ancona, where Marco Corelli hosted a crowd that watched the event in Amsterdam through a live video connection. Present in Ancona were the city's Major Fabio Sturani, a member of the Provincial Government, and the National Parliament, as well as friends and fans of Franco Corelli, and some Italian journalists. We list those present there, who were of importance to either the representation, the previous Concorsos Corelli, or the biography (a number of Franco's remaining childhood friends were present, minus Alessandro Grati, who, unfortunately, passed away last year): Tenor Lucio Borgognoni, Anna Corelli, Franco Corelli jr., Dott. Paolo Eusebi, Avv. Dott. David Favia, Dott. Pierluigi Fontana, Dott. On.le Renato Galeazzi, Giuliano Giaccaglia and his son Gianni, Gemma Giacomini, Dott. Andrea Gioacchini, Dott. Antonio Luccarini, Luigi Minardi, Avv. Mario Panzini, Alesandro Scaravelli, Prof. Mario Scoponi, Giammario Spacca, and Fabio Sturani (Mayor of Ancona).
In Amsterdam, Gianluca Turrichia, who translated many Italian texts for Prince of Tenors, and who edited all Italian translations in the book, translated the speeches for the Ancona audience. We hope to receive some photos from the Anconetan part of the presentation soon.
THE PROGRAM | AMSTERDAM
Ernst Daniël Smid (Host)
Cristina & Jacob Deutekom (Guests of Honor)
At the presentation, the celebrated Dutch baritone and television host Ernst Daniël Smid, an ardent promotor of young singers and opera in general, as well as a great Corelli fan, opened the evening with a word of welcome to the public, and the special guests Cristina Deutekom, her husband Jacob, and Graziano Corelli. Next, Ernst Daniël spoke about his love for Corelli, and how this adoration once brought him into trouble, when he sang Belcore at Opera Forum in Enschede. EDS: "The stage director there was a certain Giancarlo Del Monaco... and when I told him of my adoration for Corelli, you can imagine his response!"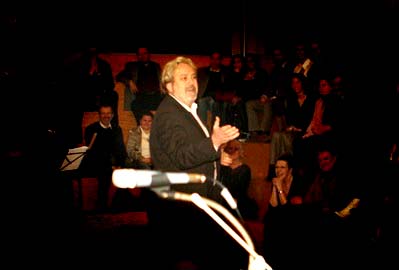 Ernst Daniël Smid recalling his encounter with Giancarlo Del Monaco...
Ernst Daniël & the author proceeded to present the first copy of the book to Holland's most celebrated soprano, Cristina Deutekom, who once sang with Franco Corelli in Norma (Parma, 1971). As can be read in her autobiography, Deutekom became a Corelli fan as well, after their triumphant joint Norma in Parma. At this point we would like to let the author communicate directly his feelings with respect to her being there: "Mrs. Deutekom's presence at the book presentation of Prince of Tenors was incredible in more than one way. She had been very ill for several years, and in fact when I was writing the book, it proved impossible to interview her, due to her health problems. Then, about three months ago, I received a letter of her husband Jacob, who wrote that they had read a preview article of the book with great pleasure. When I called him, Cristina proved to have miraculously recovered, although she had great difficulty with speaking, especially under stress. Jacob said they both would be honored to attend the Franco Corelli biography presentation, but most likely he would be the one recalling her adventures with Franco in Parma and afterwards, in between rehearsals at the Met. To my great surprise, at the presentation, Cristina challenged her physical problems and proceeded to read a speech in which she expressed her deep admiration for Franco. By the time she had finished her speech, she had moved the audience to tears, and overcome by emotions herself – this was her first official appearance since her illness – she acknowledged the ovation that we all awarded this great Dutch artist and wonderful person with."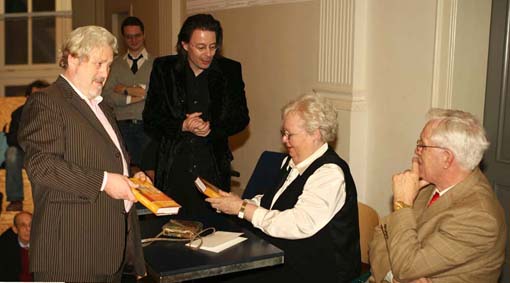 Ernst Daniël Smid, Gianlucca Turrichia (in the background), the author, Cristine Deutekom & Jacob Deutekom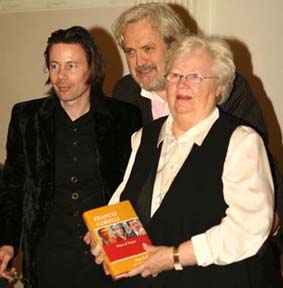 The author, Ernst Daniël Smid & Cristina Deutekom pose for the photographers
FRANCO CORELLI & NANA MOUSKOURI
Subsequently it was time to honor Franco Corelli himself, through a rare videoclip of him in duet with Nana Mouskouri, one of the many scoops featured in the book. The Nana Mouskouri show remains one of Seghers's all time favorites in the Corelli catalogue, and though it was not so much a surprise for the Dutch crowd (the video had circulated among a number of those present for decades), it was a major suprise for the Ancona audience in Italy. Detail of the show, as conveyed to the author by Nana herself, can be found in Prince of Tenors. (Shortly, we will bring a video fragment of the show here and/ or on the Videography page.)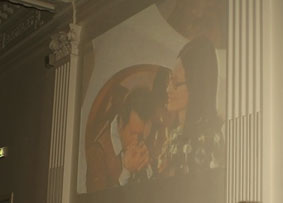 Franco Corelli & Nana Mouskouri in 1969, as projected on the wall of the Barlaeus Gymnasium.
SPECIAL GUEST | GRAZIANO CORELLI
Next Seghers recalled briefly what had inspired him to write this biography, and how he had managed to find the many details on the singers professional and private life. But more important than that, was the speech that followed: a speech by Graziano Corelli! Graziano started out very witty, greeting his cugino Marco in Ancona (who wrote the forword to the book and who contributed to it in many other ways), by saying that whereas Marco was mentioned on the cover, the Anconetans were still awaiting the book, while he, Graziano now held the treasure in his very hands! Then, more seriously, he continued to say that this was a type of biography unknown to Italians: a serious and complete survey of the singer's life, the result of detailed research and bringing together the memories of many different people, as well as information from archives, interviews, and magazines from all over the globe. There were some nice words of praise for the author that Seghers doesn't want to see reprinted here, for a number of reasons: "Without Graziano's kind help, the book would not have been the same. Even though we met too late in the process, I owe to Graziano the invaluable private rehearsal chapters, about half the photographs in the book and last but not least: the detailed reconstruction of Franco's last months. Those chapters are among the most delicate and emotional ones in the book, and I was deeply moved by Graziano's monumental speech on Franco Corelli's personality, his suffering, and the way in which he ultimately found inner freedom when the end was near."

In short, Graziano explained that Franco was never free during his career and even in later years, when he was still occupied with his voice. Graziano: "I once asked him how he had enjoyed Paris and he answered that he hadn't seen anything of it: rehearse, rest, rehearse, rest, taking care of his voice, performing, and then hopping on an airplane to the next theater. Said Franco: 'I hardly recall having been in Paris. It could have been anywhere, all those airports look the same'. My contribution to the book is perhaps most substantial at the end, when Franco's last months are described. As strange as it sounds, those months were also one of the dearest memories that I cherish of Franco, for as frail and weak he was then, I remember walking in La Betule 's garden with him, along the lane under the trees, when he had no more things to worry about. Yes, he feared death, but in the end, he was free. He could finally breath the air, and enjoy the birds and the trees." (This newfound inner freedom can be witnessed in the final photo of Franco in Prince of Tenors, where you can see him chatting under those very trees, with his friends Andrea and Gigi – RS.)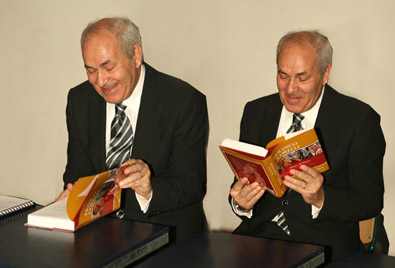 Graziano Corelli reading the author's dedication to Graziano.
FRANCO CORELLI & MIRELLA FRENI
The second movie fragment of Franco Corelli showed him in duet with Mirella Freni, in Carmen, 1970, made for German television. Seghers: "I chose this fragment because it shows so much of his tenderness – if you forget the dramatic impact of Maria Callas and the veristic katharsis provided by Magda Olivero, Corelli and Freni are just my operatic dreampair of all times; lovely, romantic, sweet-voiced and looking like Paris and Helena. Freni! Isn't she simply adorable in this duet!" (Shortly, we will bring a video fragment of this duet here and/ or on the Videography page.)
FRANCO CORELLI TRIBUTE CONCERT
The fine Chinese tenor Tiemin Wang headed the brave artists that concluded the presentation with a Franco Corelli Tribute Concert, consisting of a universally cherished Italian song (Core n'grato) and a famous aria (Nessun dorma) from Franco Corelli's repertoire, in between which Tiemin sang a surprise duet with Dutch soprano Vera Ramer. This duet (from Guerrini's Enea) will be an eye opener to many Corelli fans, as it belongs to that mysterious part of Franco's early career that has not survived in recordings – in fact, this duet does not exist in any recording at all, and, together with violinist Annemarie van Prooijen, Tiemin Wang and Vera Ramer therefore presented the audience with a genuine re-creation! Wang and Ramer were accompanied from the piano by Maarten Hillenius. The program:
Salvatore Cardillo
"Core n'grato" (Catarì)

Tiemin Wang (tenor)
Maarten Hillenius (piano)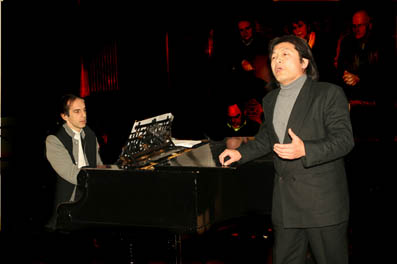 Maarten Hillenius & Tiemin Wang in "Core n'grato"
*
Guido Guerrini
Enea "Duet between Orfeo e Euridice"
Tiemin Wang (Orfeo)
Vera Ramer (Euridice)
Annemarie van Prooijen (violin)
Maarten Hillenius (piano)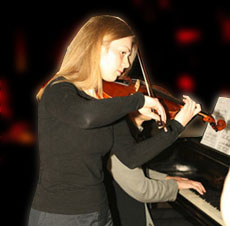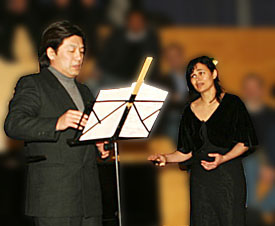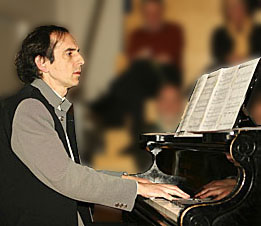 Annemarie van Prooijen, Tiemin Wang & Vera Ramer, Maarten Hillenius
*
Giacomo Puccini
Turandot "Nessun Dorma"

Tiemin Wang (tenor)
Maarten Hillenius (piano)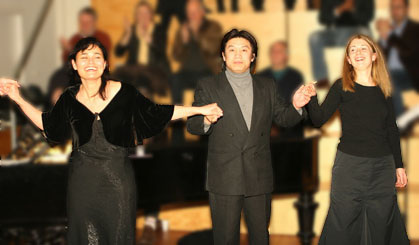 Curtain calls for Maarten Hillenius, Vera Ramer, Tiemin Wang & Annemarie van Prooijen
***
BOOK SIGNING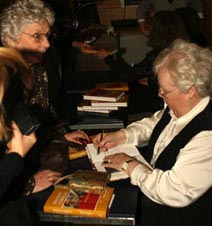 Cristina Deutekom, the author & Graziano Corelli autographing copies of Prince of Tenors
*
We acknowledge
Cristina Deutekom, Jacob Deutekom & Ernst Daniël Smid
for their spontaneous support.
Marco Corelli & Giulio Viezzoli (President of of Aethra)
Aethra supplied the technical facilities for the live video presentation in Ancona.
Graziano & Letizia Corelli
for being with us in Amsterdam.
Tiemin Wang, Vera Ramer, Maarten Hillenius & Annemarie van Prooijen
for their enthusiastic participation in the concert.
Rudi van den Bulck, Jan Neckers, Joep Weijs & Vera Ramer
for their help in organizing the concert.
Geert Kapteijns and Evan of the Barlaeus Gymnasium
Geert provided us with this fine space, to present the book in, while Evan monitored the technique needed for the video conference with Ancona, as well as the projection of Corelli's movie fragments.
Gianluca Turricha
for interpreting from Amsterdam to Ancona and from there backwards again.
The Seghers family
for the catering.
*
Anthony R. Donner: video

Hans Seghers: photography