Prince of Tenors | The decisive Corelli biography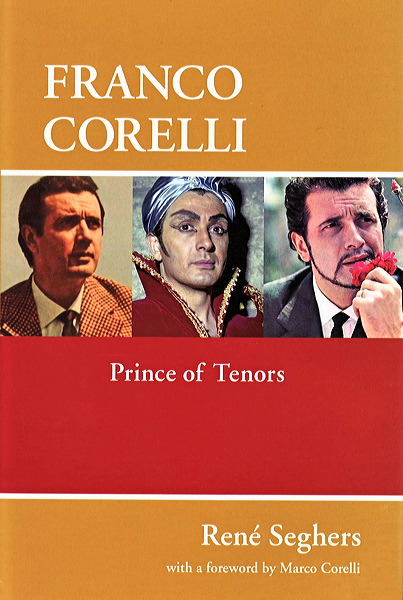 Prince of Tenors recreates Corelli's life as closely as possible, for better or worse. The audience is taken along on a ride to Ancona where Corelli was born. His mother Natalina, his father Remo, his sister Liliana and his wild, exciting & very sympathetic brother Ubaldo "Bibi" will be brought to life, as Dario "Franco" Corelli was a family man from the start. And then, on a beautiful spring day, we will literally see him fall desperately in love, until his true muse finally claims him. While reading the book you should imagine him singing Gino Bechi's 'Una strada nell'bosco' as he did as a youth when he began to test his voice. But the story is not all about singing alone, far from it. Prince of Tenors also takes you to the campfires of his teenage years, and you'll be peeking over his shoulders when he enters military service, and after his discharge, you'll see how he made ends meet through the war, repairing bicycles. At the war's conclusion, you will be liberated along with Corelli and the rest of Italy; this liberation brought about Corelli's first public concert! You'll look in on Corelli's work in the municipality, follow his first serious efforts to sing, including his first recording session, all of which occurred before he ever set foot on a stage. His pre-career story runs at least fifty pages, complete with pictures that illustrate the text throughout.
A critical survey
Prince of Tenors was written with a critical eye, striving for a balanced view. Corelli was not faultless nor was he God. To his fans he represents the greatest tenor ever, and that is also what he represents to the author, in certain ways, but right from the start, when Seghers first met Corelli, he aimed for a balanced view. "Ok," you may say, "but the author cooperated with some family members, and he even interviewed Corelli's 'notorious' wife Loretta twice... She was never known to be very open, and she used to audibly control some of Franco's radio interviews." Seghers: "True enough, and, after a chance meeting with Loretta in 2004, I hesitated to visit her in Milan, until it became a now or never proposition, when, in 2007, the publisher was already waiting for the completed manuscript. In January of that year I followed up on an invitation to visit her, and during that visit she confounded her critics. For example, the date of the Corellis' marriage has not appeared in any of the books, articles or news stories I've seen. When I asked her why their marriage date was so secret, she asked what secret I was referring to? She then readily told me the details, which proved to correspond with the marriage contract that I had a copy of. This is just one example of a subject she has always been said to lie about for various reasons, and at this point I would like to stress that, to me, she proved to be a kind and very open elderly lady."
Then, when embarking on the years of the tenor's career, you will celebrate his triumphs with him, and share his defeats. But more importantly, you will be with him all along the way - backstage, during rehearsals and at home. You'll see him laughing his heart out, explode, cry, fight, conquer. And... there can be no biography of Franco Corelli that isn't also to some degree a biography of his wife Loretta. On that subject, Prince of Tenors strives for a balanced picture from reliable sources, and includes a few comments from the lady herself. And yes, some of the fights and the backstage rituals will be there, but we trust they will not be taken out of context. For better or worse, there simply would have been no Mr. Esaurito without Loretta Di Lelio - at least not the Mr. Sold Out who brought us Calaf, Manrico, Poliuto and Raul. She was the mastermind behind his career and Prince of Tenors features telling examples of that. Ultimately, the book lifts some veils that have always clouded the Bing era at the Metropolitan Opera - part of the history of that era is illuminated in this book.
Marco and Graziano Corelli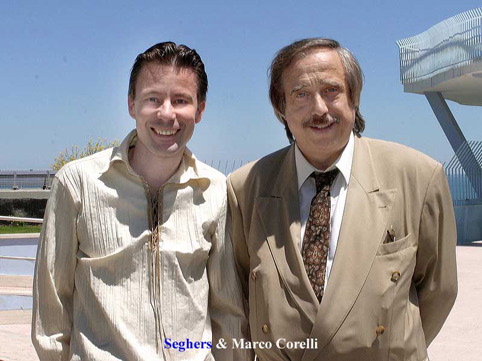 In his Foreword to Prince of Tenors, Marco Corelli wrote a few lines about what made him agree to cooperate on a book that delved so deeply into the tenor's life: "I came to believe it would serve Franco's memory well for people to know his very human side in order to better understand and appreciate all of what he accomplished professionally. After all, the two were so very intertwined."
A third relative must also be mentioned here: Graziano Corelli. He organizes a wonderful Franco Corelli memorial in Milan each year at the end of October, and shares Marco's love for Franco. Seghers: "Graziano is a true cavalier, who speaks in an educated, soft and gracious voice. I met him relatively late in the process of writing the book, at the end of 2006, when Graziano invited me to attend the third Corelli memorial. It proved a most fruitful meeting, as will be obvious for those who read the book – especially once you reach a certain chapter in 1961. I thought I was dreaming when Graziano first played thát recording for me... And then, although his name is not attached to them directly, all fans of Corelli should thank Graziano for an array of unique photographs, especially some from the Fifties." Seghers continues: "Once you all have read the book, you will see that it is not mere politeness from my side when I say that I am deeply grateful for having found a family that proved to be so responsive, honest, sincere and warm. And I am sure that every single one of you will be grateful to them too, for finally opening up after half a century of silence."
Photographs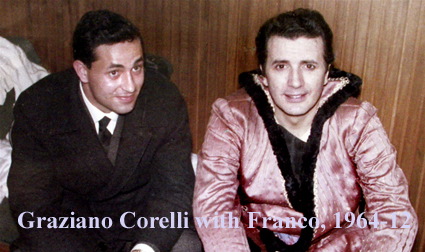 Prince of Tenors provides over 100 photos and facsimiles to illustrate the text, many never before published, while many also were privately taken. In addition, the book has a special color photo section, including both pictures of Corelli's career and of his private life. Unique? Unpublished? Yes indeed: Prince of Tenors features photos of Franco's birth certificate, of Franco throughout his childhood, with his girlfriend Iride, and there is even a photo of the youth swimming championship that he once participated in. There are photos of Franco on holidays, on the boat to Inghilterra for his Covent Garden debut, with his first car in 1952, and so on. There are pictures of Franco with Loretta, and of Franco post career. In the realm of role photos, there are some exciting finds, including photos of all but two of his roles, and a number of these have never been known to exist of him in photographic documents or have been very rare: Remo in Allegra's Romulus, Turno in Guerrini's Enea, Shuisky in Mussorgsky's Khovanchina , Gabriele Adorno in Verdi's Simon Boccanegra, Achille in Gluck's Ifigenia in Aulide, Enrico in Spontini's Agnese di Hohenstaufen, Piero Besukov in Prokovief's Guerra e Pace, and, last but not least, a stunning Macduff in Verdi's Macbeth. And for those who have always lamented the lack of photographic proof of his legendary temperament, there's even a picture of Franco engaged in a fist fight!
The artist
Although Franco Corelli was obsessed with matters of vocal technique, he primarily sang for those who preferred passion and drama, warmth and emotion, high notes and singing to the galleries to light voiced graciousness based on a different technique and idiom. There were numerous other tenors who could supply that second kind of fine singing, but there were none except for the young Mario Del Monaco who also could bring the sort of thunder & lightening to a performance that Corelli did. Sure, he was accused of flinging notes out to the gallery, but those galleries are precisely the cradle from which all great careers spring. The secret of Franco Corelli, however, is that this electrifying ability was only one facet of what he brought to his singing, for he could and did also express gentleness, sweetness, and vocal elegance - that combination made him unique among tenors