Vincenzo Ramón Bisogni "Franco Corelli Irresistibilmente Tenore" (Italian | 2009)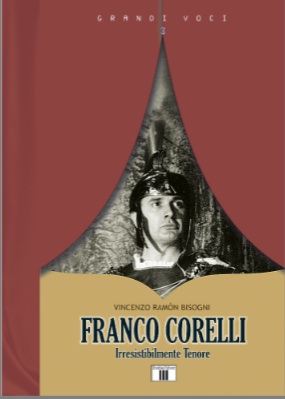 Good news: Vincenzo Ramón Bisogni just published the second Italian language biography on Franco Corelli, for Zecchini editore: Franco Corelli, Irresistibilmente Tenore. With that, the publishing industry of a country that left its most interesting singer for 28 straight years in a row to Marina Boagno alone, suddenly seems eager to add Corelli bios to their opera catalogues. That competetive spirit adds to the position of Corelli in the operatic pantheon, although, admittedly, Bisogni's book came to us as a great surprise, since we rather expected the book by Giancarlo Landini, which has meanwhile been published (see review above).
Franco Corelli, Irresistibilmente Tenore.
Let us start to say that Mr. Bisogni is an accomplished writer, who writes in clear and stylish Italian. Within the perspective of a career resume, it also well constructed, even if it doesn't present new insights. In fact, Mr. Bisogni acknowledges to have been inspired by Prince of Tenors, as well as by Marina Boagno, and we found relatively little direct research – most articles referred to have been quoted previously by either Boagno, Landini in the La Scala Omaggio, or Seghers in Prince of Tenors.
Basically, Bisogni fills out the gap between Boagno and Seghers, by incorporating a good number of quotes from Prince of Tenors into Boagno's career based concept, which Bisogni presents in a chronological way. We did note that it is good that FC Irresistibilmente Tenore has no notes section, because there Bisogni would have had to refer to Prince of Tenors on many more occasions than he does now in the names section. In Western Europe, or North America, such liberal quoting without direct source reference would be impossible, but Mr. Seghers doesn't complain:
"Mr. Bisogni acknowledges on page 2 that Prince of Tenors inspired him, and his second chapter is even titled after me. Apart from discussing the merits of my book, he also provides a psycho analysis of me there, even though I have never had the honor of being introduced to him (and even though he doesn't seem to have been trained as a psycho analist). So, as for flattery and attention, I have little to complain about. However, at one point, if we ever get to publish Prince of Tenors in Italy, it must be crystal clear that all references to the testimonies of Marco Corelli, a number of personal friends, and unique source material from my clippings files of original newspapers, all of which were first published in Prince of Tenors, derive from Prince of Tenors and not the other way around. Especially since the Corelli family was not consulted on Bisogni's book, or so they told me. Having said that, Bisogni certainly made good use of Prince of Tenors and presented the novelties of interest to him in a coherent way. He is also too capable an author so as not to bring up some questions himself, such as the theory that Franco may have changed his name from Dario to Franco rather because at the time, there was an Italian bass named Dario Caselli."
Photos
Then, for many non Italian speakers the main question of interest: what about the photos in Bisogni's book? Unfortunately, there are but two photos in the book, which makes it a non collectible for those who don't speak Italian. We were a little surprised by this, actually, because Zecchini editore published some spectacularly designed singer biographies which were larded with photos. We assume copyright issues will have played a part in this matter.
Chronology
The back section of FC Irresistibilmente Tenore has a short essential chronology section, and a discography. For all its brevity, we would have welcomed to see there at least a courtesy to Gilberto Starone and Frank Hamilton, neither one of which has been mentioned here. Gilberto appears once, as co author to Boagno in the chapter where the merits of Boagno versus Seghers are discussed. Hamilton goes completely unmentioned; surely Bisogni can't have missed Frank Hamilton during the research for FC Irresistibilmente Tenore...
Conclusion
Italians who don't read English now have four books to read: The La Scala Omaggio for the critical evaluation of Corelli's career & merits, as well as for the photos (2001); the new Italian language Boagno edition for some unique first hand testimonies (a.o. from Ziino) & the divine photo section (2008); Zecchini's book for a balanced career summary (2009), and Landini's 2010 publication, which easily outclasses the Italian language competition.
Non Italian collectors remain with the first two books, and with Landini's 2010 biography, all of which have photographs as a key attraction (the Landini book also features a unique CD with excerpts from Corelli's home rehearsal).