Paolo Rossini "Voices of the Opera - Franco Corelli"
(Italian & English | 2006)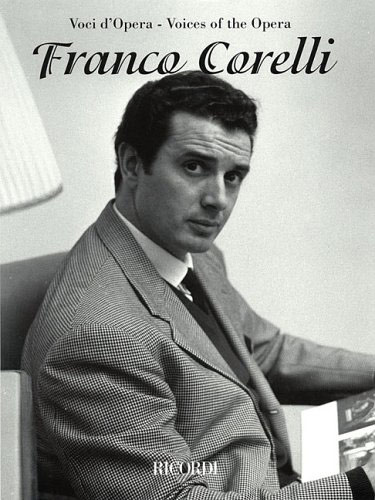 The over-sized paperback book Voci d'Opera - Voices of the Opera | FRANCO CORELLI is not a book about Franco (there is a short two page introduction), but rather a singer's lexicon in which his famous arias are printed to piano accompaniment. Part of a series of books, the aim is to explore how different singers in given recordings of a selected aria adhere to and deviate from the printed score. With the words and music in hand, one has to look up the arias in the relevant Corelli CETRA or EMI publications in order to follow the analyses by Paolo Rossini. He provides a bar by bar annotation of what vocal effects and ornaments Corelli employed - a portamento from d" - c" there, a sostenuto here, a fiati after "amarti" in "Di quella pira" and so on. Even the points where he breathes are indicated! Fascinating reading for the voice student and the lover of tenor and Corelli singing alike. Even if you are not a musical scholar in the field, the precise markings will serve like a textbook of opera, teaching you exactly what all the specialized musical terms mean. The arias analyzed are "Svanir le voci - Meco'all altar di venere" from Norma, "Ah! Sì, ben mio - Di quella pira" from Il trovatore, "La vita è inferno - O tu che in seno agli angeli" from La forza del destino, "Se quel guerrier io fossi - Celeste Aida" from Aida, "La fleur que tu m'avais jetée" from Carmen, "Un dì all'azzuro spazio," "Sì, fui soldato" and "Come un bel dì di maggio" from Andrea Chénier, "Una parola sola - Or son sei mesi" from La fanciulla del west, "Non piangere Liù" and "Nessun dorma" from Turandot.